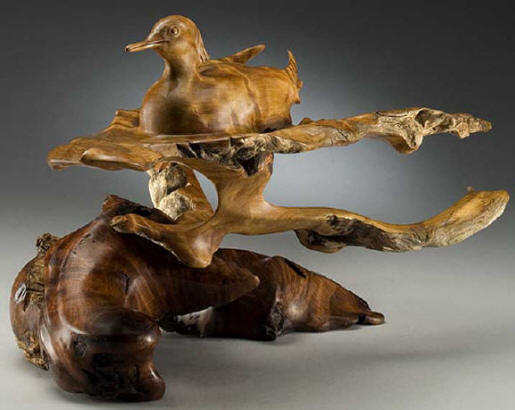 West Texas Juniper on Mesquite H 12", 32", W 22" (photos by Mel Shockner)
Mid Stream Reflection
This Hooded Merganzer Duck won first place for interpretive sculpture in the world class 2006 Ward World Championship Wildfowl Competition.
The largest bird carving competition in the world
Use of the wood and the grain is what helped this piece to win the 2006 world ...... The sculpture depicts a Hooded Merganser swimming upstream, the light from the water reflecting off its breast. Sculpted from a single piece of rippled West Texas Juniper and set on a richly burled piece of Mesquite, the sculpture speaks of beauty and tranquility. As well as you can through a photograph, take some time to enjoy the beauty of the grain. As with any of these pieces, there is so much more to see in viewing the actual piece.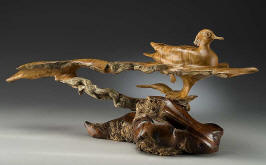 Mid Stream Reflection

In the midst of this life's struggles
as the currents press and shove,
the strength seen in us by others
is the light of Jesus' love.

For we reflect His light and love
as we keep our eyes on Him,
He is there among the currents,
right beside us as we swim.

When we are wronged, He is forgiveness
shining forth as a patient grace.
When those around are hurting,
He's the warmth in our embrace.

An attitude of gratitude
a peace when pain persists,
is the type of light that searching eyes,
in this darkness, cannot miss.

Without trials the waters stagnate
and we fail to truly grow,
before, we trust God's faithfulness,
afterwards we know.

Know that He is faithful,
that His promises are true.
Know that if you ask He'll give,
the grace to bring you through.

J. Christopher White
May 4, 2006