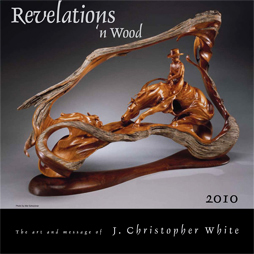 Now Available!
Revelations 'n Wood
Twelve sculptures, including inspirational poetry for each one composed by the artist in a 12" x 24" wall calendar for year long enjoyment.
.
...impeccably photographed, masterfully carved sculptures from thousand year old rare juniper wood...
....these make excellent Christmas gifts
click here for more information about the calendar and to order
Of Dust and Dreams
June 2010

Working on a dream
though the dust might blind your eyes,
many hours of sweating,
countless futile tries.

Seems at times the reigns and bridle
are fastened to your heart,
tugging past the disappointment
and the trials that have their part.

In forming both the challenge
and the victory as well,
trials are truly teachers
though in training your can't tell...

Season's Greetings,

Looks like the year 2009 is about past and there is only one page left to turn on the calendar. For those of you who have enjoyed my previous calendars and would like a new one, my 2010 Revelations 'n Wood calendar is literally on the press, and will be available for purchase this coming week.

This last portion of 2009 has been a full period of time, filled with a lot of travel, teaching and shows. I taught here at my studio in Colorado in March and April, then taught, judged, and competed at the Ward world Champion Bird Carving event in Ocean City, MD. The class went great (mainly due to the great students), I pray my judging was fair, and I did manage to win Best in World stylized division.

May was filled with two trips to Texas for wood hunting and a little father/son time in the canyons. My son Brent left to attend the US Air Force Academy in June, so we spent a few extra days rappelling and hunting wild boars in the canyons. We did keep an eye out for interesting pieces of wood and carried out quite a bit. After Texas, the entire family drove to San Diego so we could enjoy the beach, if you call hypothermia enjoyable. On the way there and back we visited all those beautiful desert National Parks in AZ, UT, and CA, you know the ones that don't let you cut all the pretty dead trees.

June was a blur of playing catch up on my carving, and traveling to Port Angeles, WA to teach a fun class full of great students. ( they might debate the fun part and let it slip that I am really a slave driver) July involved getting ready for Sculpture in the Park, here in Loveland. August was the actual show and thankfully it was very successful.

September held a wood hunting trip to Texas and a class, at the end of the month, here in Loveland only to turn around and head to Chattanooga, TN for a return class with gracious host Ferrall Eaves in early October. November has been filled with commissions, and getting the calendar ready. Which brings us up to date.

The majority of the major pieces I have done this year are on the website and in the 2010 calendar. As I sculpt and teach I continue to learn many things, among them how to put more movement into a piece of wood. I have to put more into each piece to stay ahead of some of my students who will soon pass me up as they employ their God given talents with countless dusty hours of hard work and creativity.

Listed above and to the right are the dates and locations for the classes that I will be teaching that are now scheduled. You will find more information on the Workshops page of the website.

I pray this Thanksgiving will be one of expressing gratitude to God for all the many blessings He has given this year. The giving of thanks to God is a truly powerful way of focusing on the Source of "all good and perfect gifts." Giving of thanks is a shield to help fight off fears of the future by focusing on God's faithfulness in the past. Make good use of this awesome gift this season, or every day, for that matter.

Sincerely,
J. Christopher White
Feb. 16-20, 2010
Chattanooga, TN
March 1-5, 2010
Loveland, CO
April 20-22, 2010
Ocean City, MD
Maximum of 6 students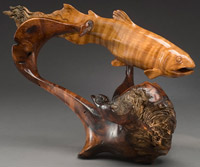 July 2010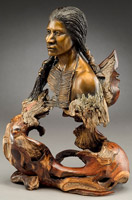 October 2010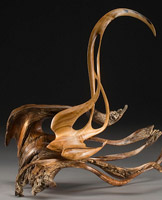 March 2009