Newsletter, September 2003
J. CHRISTOPHER WHITE
EXPRESSIONS IN WOOD
PO Box 73, Loveland, CO 80539
(970) 613-9517
email: parables@jchristopherwhite.com
website: www.parablesinwood.com
Hi Y'all,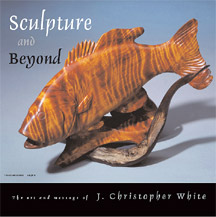 It has been a very busy summer for me and it looks like fall will keep up the pace. Much of my time and effort has been spent producing the 2004 "Sculpture and Beyond" Calendar. I'm very excited to announce that the calendar will be available October 1st. Right now you can get free shipping for a limited time as an early buy special. Please visit my website to preview the calendar and for complete ordering information. It's a similar format to the 2003 calendar with thirteen new images and complete poetry included. These make great Christmas gifts and are only $12.95.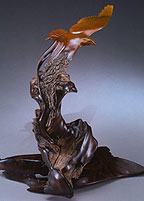 Recent events, such as Sculpture in the Park here in Loveland, have opened up new doors for my work. I have been accepted in three new galleries, Old Towne Gallery in Park City, Utah, Wilcox Gallery in Jackson, Wyoming and Pitzer Gallery in Carmel, California. One of the reasons is the "Bronzewood" melds that I started doing last year which have attracted lots of attention and interest because of their uniqueness. In Bronzewood I now have a life size falcon in a dive, and a small eagle. I have almost completed a small bust of a horse, a small native American face and another eagle.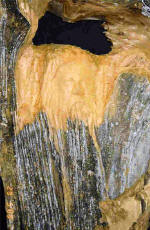 I am presently working on two new sculptures that I'm very excited about. One is a two-thirds life size horse's head similar to "Finish Line in View". The other piece is a life size bust of Moses. Both are these are available for viewing in their present blocked out form on the "Works In Progress" page on the website. I intend to update the website with additional pictures of these two pieces so that you can follow the progress of the sculptures.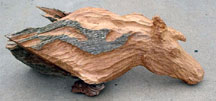 I will be teaching classes in Ft. Collins,CO on Wednesday evenings for a five week period. The class dates are October 22 - November 19, 2003. Alyssa, (970) 482-2787, is the contact person for more information about this class.
I will be updating the "Carvers Corner" page of my web site by adding a third article on "The Value of a Line". I hope to have this on the site by mid October. These articles are the same material that I teach in my sculpting classes.
Thank you for your continued interest in my work. May God bless you.

Sincerely,
J. Christopher White
PS. Looking for a great fundraiser for your school or Church? My 2004 calendar is available at a very nominal cost to churches, schools and other qualifying organizations for fundraising purposes. Email Chris at parables@jchristopherwhite.com for details.
Newsletter published by JLM MEDIA