Southwest Art Magazine ,June 1995, J Christopher White
"Beauty Engrained" by Karen Fliedner
Contemplating the life and work of an artist is a marvelous voyage into infinity: No matter how common the subject matter, artistic self-expression is limitless and worthy of wonder. Wonder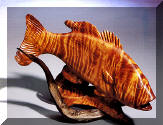 motivated me to find John Christopher White when I visited an art gallery and saw his work and his book titled Expressions in Wood [1990 COMPANION PRESS, SHIPPENSBURG, PA]. The subjects of his sculptures were typical - cat-fish, birds, human faces-but what type of visionary could pull such beauty out of weathered West Texas juniper, much less transform this tough wood into three-dimensional art? My drive into the Texas Panhandle to meet White intensified my wonder. Above me, shimmering curtains of red, white and green aurora borealis danced in a mystical veil against the backdrop of a star - studded November night. The following morning was warm and unusually windless. Just as rare, I learned, were the Northern Lights of the night before. They seemed to set the perfect stage for White (b1953), who is slight but whippet strong with blond hair that belies his partial Seminole and Cherokee heritage. When he smiles, the wrinkles of an avid outdoorsman crease the areas around his blue eyes. Looking into those eyes reveals the radiance of a gentle soul. Indeed, this artist is a warm, compassionate and friendly man. If a sculptor's hands are the vehicle giving form to his inner countenance, then White's calloused fingers speak volumes about the way he deftly wields a sculpting tool, prepares a tasty chile relleno or tenderly holds his son Brent. He had been rappelling the walls of nearby Tule Canyon for hours when I and a small group joined him. He favors juniper over stone, he told us, because of the warm feel and fragrance of the wood. Watching him gracefully bound along the sandstone path gave me the impression that he is ensouled by the place, matching its winds with his breath, its murmurs with his heartbeats. Indeed, this slit cut by the Red River some 700 feet deep and a half-mile across holds a prominent place in White's life. The Cap Rock canyon lands have seen him through the wildly varying seasons of his life, including his embattled years of drug and alcohol addiction. Whether in the shadows of

cottonwoods along the river or briefly atop the plateau in a tepee, White explored the faces of these walls in search of himself. He found his answer in 1980 when he embraced Jesus Christ and was delivered from his dependencies. Years later, in 1989, it was a sober and sanguine White who posed with his bride Sharlane Freudenberg in wedding pictures with Tule Canyon a silent sentry in the background.
White attended art school in Guanajato, Mexico, from 1976 to '78 and 1981 to '85. He also studied range and wildlife management at Texas Tech University, Lubbock, from 1972 to '74. His education, however, extended beyond the classroom walls of the National Institute of Fine Arts, San Miguel de Allende, into the economic insecurities of Central America. The area's poverty was personified by a "young, penniless woman carrying her child, their faces etched with hopelessness and fear." White saw them from the train window a vision that compelled him to return on numerous missionary trips, ministering to the people of the area.
Whether talking about his craft, the canyons or the nature of the wood he uses, White is a chamber of commerce extolling the drama and unique beauty of the Cap Rock. At the moment, he is absorbed by what appear to be deer droppings bisecting the canyon trail our small group is ascending. "It could be aoudad," he speculates, speaking of the north African mountain sheep introduced to this region in 1960s. Picking up a piece, he continues his close inspection, then carefully bites into it, thoughtfully chewing before pronouncing it aoudad. Utter disbelief hangs in the air as White reaches into his jeans pocket and pulls out a handful of coffee beans, his eyes sparkling with amusement about the hoax.
Juniperus texensis Van Mull grows only on the limestone cliffs and sandstone ledges called the Llano Estacado, says White. It is the densest juniper known, weighing in at 44 pounds per cubic foot. Growing flat, without knots, the limbs flare off into twisting shapes.
Turn-of-the-century cedar cutters gathered most of the easily obtainable juniper for use as fire wood or fence posts. The best wood is now limited to inaccessible parts of the canyon reached only by rappelling. White's search for fallen or dead-standing wood on lands belonging to rancher friends is an adventure unto itself. If roping down crumbly, narrow ledges is not challenge enough,

then finding the right piece of wood is. "It took me six months, probably six or seven trips, looking at 500 trees, before I found one for a ram sculpture I had in mind," he says. Once the right piece of wood is found, the formidable task of getting it back to his red brick studio in Silverton, TX, requires help from friends who are coaxed into volunteering by the prospect of rappelling . Removing a several-hundred- pound tree from its precarious perch may involve lowering it by rope down the 40-foot cliff. If possible, White cuts off pieces to lighten the load then takes a cross section "to see if it will work." If the wood is deemed worthy, White and several other men waltz it to a road cut, where it is dragged out of the canyon by horse. The Herculean efforts exerted in getting the juniper to his studio are paid off by its compact, close grained nature sans the breaks or pock-marks of open-grain wood such as oak. Those elements alone are key to White's interpretive style of realism, since his art stresses movement set into motion by light gliding along the glasslike sheen of a finished piece. "Surface imperfections destroy the movement," says White, adding that "texture catches light. Scuffs or scratches show up dark." White establishes motion by "rasping the wood into planes that come together to form a line." Using saws, gouges, mallets, rasps and files, he creates a series of lines that flow from realism into stylistic, then abstract expressions. Once it is fine-tuned the sculpture is sanded to a glasslike finish using six different grades of sandpaper, followed by more than six layers of Danish tang oil. The sculpture shines as if glazed with varnish or lacquer-neither of which White uses- yet is remarkably soft to touch. More than once in competitions prohibiting the use of varnishes judges have mistaken the sheen on White's sculpture as the result of such substances. "You can feel the difference," says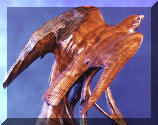 White, adding that children tell him his sculptures are "so soft." Rough wood is left for contrast and to show where the beauty comes from. A sculpture of a large-mouth bass always elicits questions about grain. "On rare occasions juniper has curly grain," White wrote in his book. "I made 11 sculptures from this tree." White also occasionally showcases what he calls black mesquite, a wood that can become as black as ebony from years of mineralization. White's favorite sculpture, Determined shows a falcon swooping into the air, its wings tightly pressed together in aerodynamic symmetry. He describes "pulling out wood" in order for the falcon to lift off. As with many of his works, realism contrasts with abstract motion-here, the spirited lines and planes serve as a contrail of the bird's flight.
White doesn't always summon pleasure from his works. A poem accompanying the image of an elderly man leaves a gnawing discomfort, perhaps born of guilt. "I'm not a rose so withered my heart can no more ache; nor have I ceased the will to give, though it's now my lot to take.... I'm imprisoned-could you visit me? just let me know you see that despite my feeble, dying frame, it's still worthwhile to know me."
White's poetry is unabashedly religious-not surprising since he views himself more as a "chisel in the hand of God" than as an artist intent on leaving his mark upon humanity. While acknowledging his artistry, White is not in awe of it, believing that self-worth based on talent alone is "an exercise in futility-someone will always have more talent. "Sculpting is a ministry and I'm thankful to have the job," he concludes. "I'd rather have people say, "What a neat God", than "What a neat guy."