"IN TURN"
...Even when unfaithful, your faithfulness I see. In Turn, I reach up toward the One Who is reaching down to me...
2006 Workshops
Up coming classes.
Apart from two or three classes that I want to do at home (dates yet to be established) I will be teaching in the following places.

June 5-10
Marc Adams School of Woodworking Franklin, Indiana
Contact
(317) 535-4013 www.marcadams.com

July 17-22
Krausman's Woodcarving Studio
Contact
www.referencephotos.com
jkrausman@skyenet.net
1-(877) 572-8762

August 1-6
Red Deer College
Red Deer, Alberta, Canada
Contact
Wendy Meeres (403) 342-3300
wendy.meeres@rdc.ab.ca
Newsletter, July 2006
J. CHRISTOPHER WHITE
EXPRESSIONS IN WOOD
PO Box 73, Loveland, CO 80539
(970) 613-9517
email: parables@jchristopherwhite.com
website: www.parablesinwood.com
Greetings,
This summer was another busy one. Sorry for the long interim between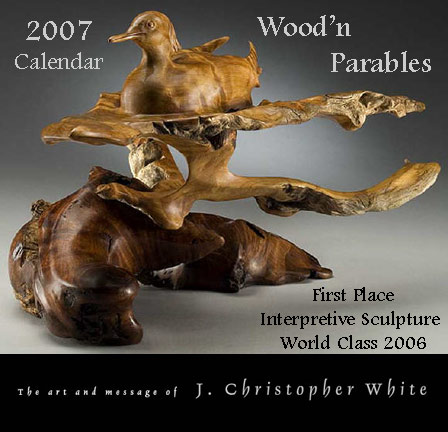 newsletters. I was in The Governor's Show here in May, and one in Greeley at about the same time. That left me with just six weeks to finish a couple of commissions and get things ready for Sculpture in the Park before leaving to teach two week long classes in Red Deer Alberta. I had to stay in high gear before and after the class to fit a wedding in before the August sculpture show. Sometime in June I took a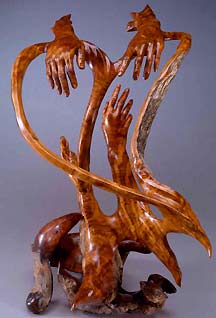 week out to cut wood in Texas and visit my friends and family there. The rest of August was filled with commission work. September began with a quick trip to Nashville, TN and another to Jackson, WY. Any spare time went to work on my 2006 Calendar. I'm very excited to announce that the calendar is now available. Eleven of the sculptures in the 2006 Calendar have never been published. Please visit my website to preview the calendar and for complete ordering information. Many of you have been anxiously awaiting these for Christmas gifts, thank you for your patience.

A new page turned in my teaching this fall, I began a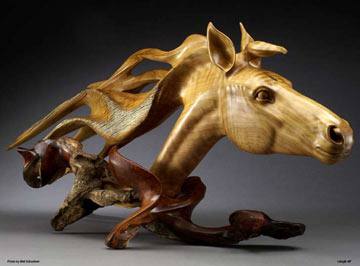 small class (three students) here at my studio. I really enjoyed that class and look forward to doing more of them. October has been used to finish two more commission pieces and to get ready for a show in Lubbock, Texas November 10th, hopefully I can squeeze in a day or two to hunt for wood in the canyons. The 2006 Workshop schedule is listed to the left in this news letter and also on my website on the Workshops page.
Below are two new pieces. "Center of God's Heart" is an alabaster hand with a bronze rose on a mesquite base. "Directed Navigation" is a juniper fish on a mesquite base.